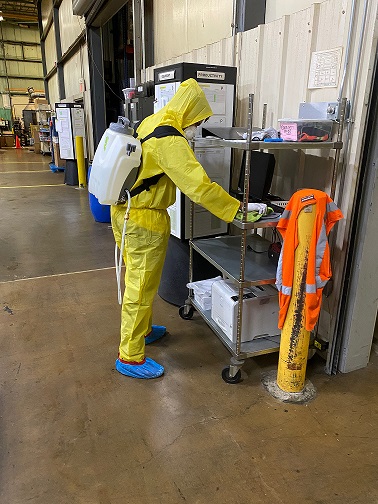 Create a healthier, safer environment for your staff, students, or residents. We are here to help!
OUR DISINFECTION SOLUTIONS WILL...
Combat SARS-CoV-2; the cause of Coronavirus COVID-19

Kill 99.9% of bacteria in 5 seconds

Kill cold and flu viruses, MRSA and Norovirus (plus 44 viral and bacterial organisms) in 2 minutes or less

Effective 2-step disinfecting system

Eliminates odors

Sanitizes soft surfaces (chairs, upholstered furnishings, mattresses and more)

Inhibit the growth of mold and mildew for up to 7 days
Call
717-833-4625
now for more information, or a demonstration!
Clorox Disinfecting Cleaning Service
Personal Touch Professional Cleaning Service utilizes Disinfectant products that meet the EPA's criteria for use against SARS-CoV-2; the cause of Coronavirus COVID-19 as well as emerging pathogens.
We use cutting edge Electrostatic technology which enables superior coverage of trusted Clorox
solutions in hard-to-reach places — including the sides, undersides and rear sides of surfaces. Applications are efficient, cost effective and greatly reduce sick time for employees, residents and students. We can structure a custom program to meet your business, facility or school's specific needs.
Call
717-833-4625
today! We are excited to share how our disinfection system can help to improve the overall cleanliness and health of your facility.
Kills 99.9% of bacteria in 5 seconds
44 organism claims: Kills cold§ and flu viruses, MRSA and norovirus in 2 minutes or less
One-step disinfecting
Eliminates odors
Sanitizes soft surfaces
Inhibits the growth of mold and mildew for up to 7 days
Deodorizing and Decontaminating Cleaning Service - PA Farm Show Complex
Request a Disinfectant Demo
Back to Our Services